We're thrilled to announce the launch of Sault Ste. Marie in the On This Spot app! It's the culmination of a year long partnership with Tourism Sault Ste. Marie, the Sault Downtown Association, and the Sault Ste. Marie Museum.
At the eastern end of Lake Superior, Sault's history dates back millennia–from an ancient gathering place for Indigenous peoples, to a critical outpost in the fur trade, an industrial powerhouse, and finally a diverse community rich with the heritage and culture of the peoples who call it home.
We had no shortage of exciting stories to showcase in our walking tours here, along with a fantastic selection of over 100 historic photos provided by the Sault Ste. Marie Museum.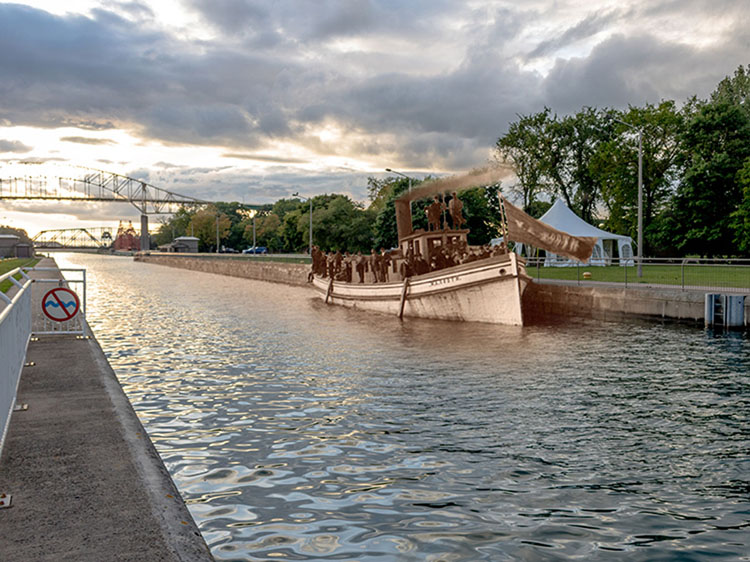 Sault Ste Marie is at the mouth of the St. Mary's River, which empties out of Lake Superior and into Lake Huron. The river at this spot was blocked by a great and tumultuous rapids that the Indigenous peoples called Baawitigong, making it a natural stopping point for those portaging from one lake to the next.
The town is over 500 kilometres from the major urban centres of southern Ontario in the east, and 1,000 kilometres from Winnipeg in the west, making it relatively remote. Despite this isolation, its strategic location between the two westernmost Great Lakes made it a crucial stopping point for fur traders from an early date. A small community grew up around this trade post until the late 1800s, when an industrializing Canada began expanding west and exploiting the abundant resources of northern Ontario.
By the early 1900s Sault Ste. Marie was a major industrial powerhouse, home to a pulp mill, steel mill, railway lines, and of course the Sault Ste. Marie Canal that bisected the rapids.
I spent two weeks in Sault last summer, and loved the experience. A remarkable number of heritage buildings from the industrial era have survived overlooking the scenic rapids. We developed two historic walking tours with the Sault Ste. Marie Museum. The first tour, A Stroll Down Queen Street, focuses on the lived experience of people in the community in the 19th Century, as told through old photos of the town's main street.
Our second tour looks at Sault's history as told through the rapids themselves, from the fur trade to industrialization and the canal, including a visit to the Sault Ste. Marie Canal National Historic Site.
We also partnered with Downtown Sault and Tourism Sault Ste. Marie to do something new: pilot project tours for public art and tourist attractions! To date all our walking tours have been exclusively history-focused then and now photo tours. Now we are expanding our scope.
A walking tour commissioned by Sault Downtown showcases the work of local artists who have created murals on downtown buildings. We use the spots to bring context to their art and give our users ways to connect with the artists.
Finally a tour for Tourism Sault Ste. Marie shows many of the waterfront attractions, including key details and services, that can better connect visitors with things to do.
These new types of tours will allow us to better serve our users, spotlighting activities and local arts, and help the communities with which we partner. We're pleased about these pilot projects and hope to begin creating more tours on a variety of themes in the future.
We're proud that this project was able to bring together the business community through Sault Downtown, tourism promoters, and the local historical community, to provide a service that will have multi-faceted benefits for years to come. Stay tuned for future expansions to our Sault Ste. Marie content, as we continue to dig into this deep well of local history.
Be sure to check out the content, and be sure to plan a trip to Sault Ste. Marie in the future! You won't regret it!