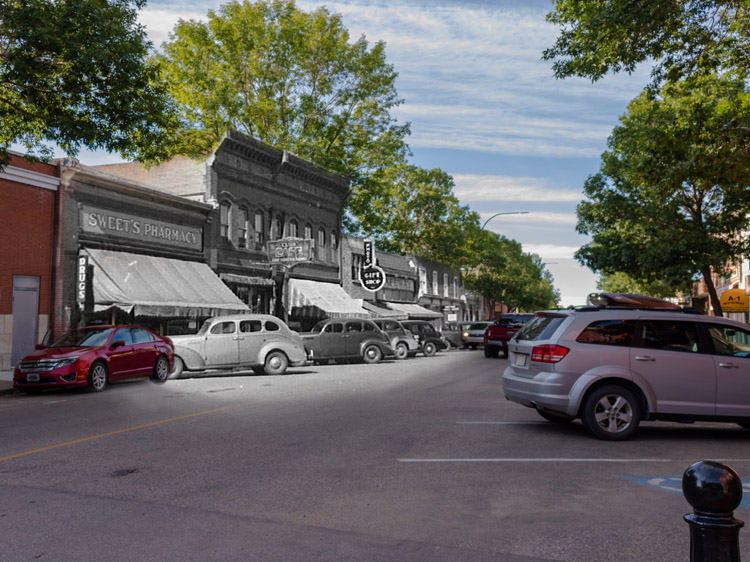 We're thrilled to announce the addition of Lacombe in the On This Spot app! Thanks to the combined efforts and support of our partners at Lacombe Regional Tourism and the Lacombe Museum, we are soft launching 50 then-and-now photo opportunities spread around downtown.
Nestled in the rolling prairie of central Alberta, Lacombe sits at the midpoint of the main route connecting Edmonton and Calgary. The region has been home to First Nations peoples like the Cree, Sautleaux, Blackfoot, Dene and Sioux for at least 12,000 years.
Much more recent is European settlement, which began in the 1880s, and gained speed after the Canadian Pacific Railway built a station here in 1891. Thanks to its location on important road and rail networks, Lacombe grew in size and importance in the early years of the 20th Century. Many impressive business blocks and opulent homes were erected, and a remarkable number of these structures survive to the present.
As a result the picturesque downtown boasts one of the highest concentrations of heritage buildings on the prairies. Today Lacombe is a small and prosperous city, with around 13,000 inhabitants. The picturesque downtown has rapidly revitalized in recent years, and draws visitors from far and wide.
We will be launching a full comprehensive walking tour of Lacombe in the months ahead, when we will do the official rollout, so stay tuned! For now, check out the all the content we created with the soft-launch and interact with the then and now pictures of all the spots here! Let us know what you think!