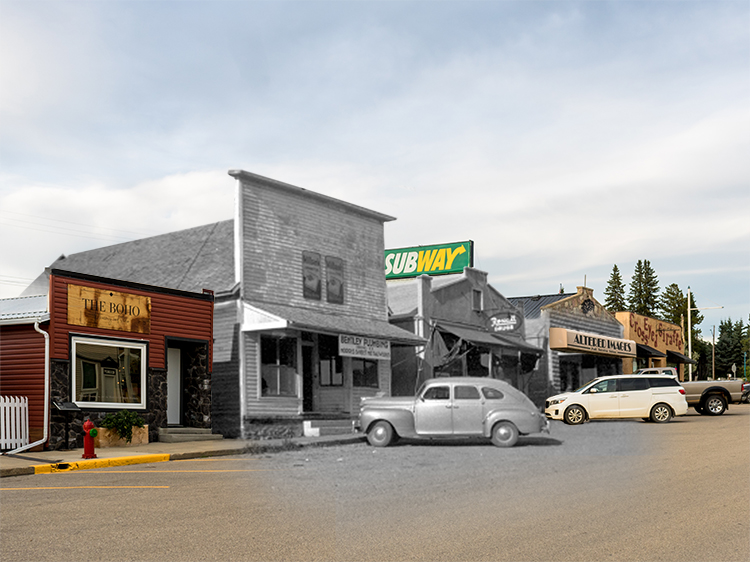 We're excited to announce On This Spot's launch in Bentley; the Jewel of the Blindman Valley! Working with Marc Fortais and the Town of Bentley, we've reshot a series of historic photos that takes you back in time to see the many historic buildings along the Main Street.
In the shadow of the Sunset Hills, Bentley was founded by Major William McPherson and his sons in 1899, when they set up homesteads and laid out a townsite. In the years that followed the community prospered and grew rapidly, but a devastating fire in 1916 wiped out much of the south side of the main street. Rebuilding was swift, and the street was widened into the broad distinctive boulevard that acts as the focus of community life today.
We'd like to thank Marc, the Town of Bentley, and Lacombe Regional Tourism for their support throughout the project, enabling us to showcase the town and its historical roots.
Be sure to see the full tour on our official website, or better yet; download our free app for both Android and IOS devices, plan a trip to Bentley in the future and experience the tour on location with the app! You won't regret it!
Also, stay on the lookout for our upcoming Virtual Tour of the Bentley Museum! For those who don't know, Virtual Tours allow visitors to take their own tours of the museum and its exhibits from the comfort of their own home using their desktop or mobile device. Simply put, it's like Google Maps Streetview but for the inside of a museum.